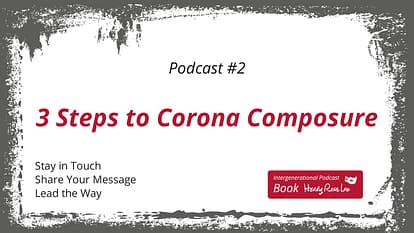 During the Covid-19 Pandemic, this 'Pandemic Podcast series' or 'PanPod' as I call it, is focusing on Advice Across All Generations.
Hi, I'm Henry Rose Lee and Welcome to my Podcast.
This is Podcast #2 of my advice for all generations during the Covid-19 Lockdown.
You can listen to PanPod#1 HERE
In this short episode, we ask, 'Are There 3 Steps to Corona Composure, Calm & Comfort?', and got some surprising answers…
Relax and enjoy this podcast episode…
Here's a full and compete transcript:
Q J
Okay so yesterday Henry we spoke about how this lockdown is hitting the youngest people in the society the greatest in terms of employment and income and 10% of people in hospitality hotels those sort of things. They're actually taking a big hit.
Q J
So, if you're listening and you want to go back to that, it's podcast number one, and you can hear that from yesterday. But today, podcast number two Henry, what are we going to be talking about?
Henry Rose Lee
What we're talking about today is your responsibility and accountability during the crisis that feels very serious and boring, but really, it's about what you can do.
Henry Rose Lee
You can't control the virus, but you can control yourself. So even though there is a global pandemic you don't need to hide away and do nothing. Don't believe that you have no control of anything. Yes, it's a frightening time, but don't catastrophize, don't be frozen and unable to function, because then the virus wins.
Henry Rose Lee
And finally, don't wish things were different. We are where we are. What you can do is take some action about yourself. What can you control?
Henry Rose Lee
Well here's a start. Let's follow the rules because they are keeping us alive.
Henry Rose Lee
Only go out when absolutely necessary or to get medical supplies. Only exercise once a day. Only travel to work if you absolutely cannot do your work at home, but also bear in mind are you being physically active? Are you being mentally active? Here are my three steps.
Q J
So everyday Henry you're going to be giving three steps that our listeners can take to help them deal with and cope with the situation we're in.
Henry Rose Lee
Absolutely. So here are the three steps for today. If it's all up to you if you're responsible in your way. Here's what you can do.
Henry Rose Lee
Number One, Stay in Touch. Check out the people in your family in your closest community. Have they got any symptoms? If they have then make sure that they're self-isolating and that they keep in touch with you. Phone: Skype: Zoom: WhatsApp, on a regular basis.
Henry Rose Lee
COVID-19 follows a pattern of days, and within seven to 14 days, the virus should be over for people who are going to be fine with it. But after day 20, that situation is going to be very serious indeed. So, number one, Stay in Touch.
Henry Rose Lee
Number Two, Share Your Message: Talk to everybody you care about and share the importance of a positive mindset. Most of us have no control over the virus. We're not in the NHS and if we are, all power to their elbows. But if we're not we can respond with appropriate behaviour and by focusing on the things that keep us healthy and happy that keep us, active productive and doing as well as we possibly can, given the circumstances.
Henry Rose Lee
And Number Three, Lead the Way: Be a role model for your friends and family. If you focus on what you can do, and focus on your thinking about how to get through this tough time, then your mind will be innovative and creative, and you can encourage other people to do that as well. And you'd be amazed at how many ideas, you're going to come up with.
Henry Rose Lee
You see a crisis sometimes produces the best inventions and the best behaviours, so go for it.
Henry Rose Lee
And finally: Keep washing your hands, keep eating healthily and keeping your brain occupied. In fact, keep on keeping on. Now THAT you are responsible for.
Q J
Absolutely. Thanks for today's podcast Henry. I'll see you again tomorrow.
Henry Rose Lee
See ya.
Q J
Bye.
Transcribed by https://otter.ai
You can subscribe to my podcast here:
If you're a millennial or genZ, and you'd like to be a guest on my podcast, then get in touch here. OR join my Insights list here.