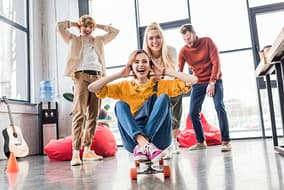 Because they complain about student accommodation that they find unacceptable, are Gen Z spoilt and soft? Or are they sharing their 21st century desire to get the best they can? Something we probably all want, even if we never say so. (see my Spotlight on Gen Z article here…)
In the Daily Telegraph, Claire Cohen is correct that halls of residence in universities could be poorly built and badly run in many further education establishments in the 1970s, 1980s and 1990s.
I once slept in the bath of the communal bathrooms to avoid the rats in my room. Although I have also slept in the bath when I went to an all-night party and every other available bed, sofa and floor-space was strewn with bodies.
I've lived on toast, mars bars and orange juice for a month because access to student food was so limited, and so expensive.
I've lived in rooms with paper-thin walls and cracked, dirty windows without curtains – all to get an adult education. That was then. Cohen is now pointing out that Gen Z are complaining about the 8 x10ft (2.4 x 3m) "studio pods" which were installed in a car park at the University of the West of England's (UWE) Frenchay campus.
Having run out of space, UWE has built tiny, yet serviceable units for students – who call them "not fit for humans", despite their carefully constructed beds and cupboards. As Cohen points out, even 20 years ago, student accommodation was nowhere near as comfortable, sanitary or viable as it is today.
But today's Gen Z are complaining because they expect more. As she puts it "When their pals are at the funfair 24/7, no one wants to be living in a car park".
I do agree that today's accommodation for all UK colleges and universities has exponentially improved and many students live in comfortable, welcoming rooms.
But I don't agree with harking back to the past and comparing Gen Z's demands for a good standard of living with the lower standards that people accepted in decades gone by. That's like saying that London slums in the 1860s were fine – where 6 people might live in a single room, and take on an additional lodger, to share the cost.
Things change because change is inevitable. And hopefully, things change because humans can always improve and do better.
It's good that Gen Z want a home from home in their student accommodation. And it's bad if we beat them up for wanting the very things that we have all come to expect today, regardless of our age, and our past experiences.
Raise your voice Gen Z; ask for what you want. If you don't ask, you don't get. And if you don't aim for improvement and doing things better, then perhaps you'll accept slavery, famine, pestilence, war and other terrible atrocities because – well, if you got through dark times, other people can.
Oh really?! I don't think so.