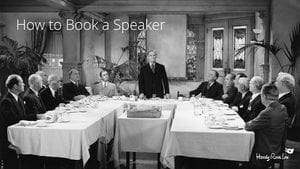 Social media has apparently made speakers of all of us. If we're not publishing our stories in Instagram, we're uploading videos on YouTube or – if we're really young, hip and cool – we're doing 15- to 60-second hits on Tik Tok. But if you really want to book the right speaker, at the right time, talking about the right thing for your event, you'll need a bit more than the latest tech.
You can find speakers anywhere – although the best ones are recommended to you by others who've already seen them perform. Yes, it's a performance. It's not just standing up with 50 slides and the latest research. Most of us would lose the will to live if the keynote, or masterclass, or speaking event, was nothing but knowledge and intel.
Even better, if your speaker has a humorous side, and also a sense of presence and spectacle, they'll be able to inject some drama, wow moments or entertainment into the keynote or presentation. All of this will help your audience to remember the key points, and to feel that they got their money's worth. A good show!
Of course, you can go to speaker bureaux – there are some great ones out there. You can also search through Google or LinkedIn, where many business and professional speakers have a presence. Or you can find the speaker's website, where you'll find a range of useful information and resources to help you decide if the speaker fits your requirements.
Booking a speaker is no easy task. Every speaker is unique. But here's how you can book the right speaker, and make the experience work well for you, your organisation, and your audience.
How you can book the right speaker
Design your event, then find the speaker: Too many people will find a great speaker, who is hugely entertaining, and build the event around this keynote. Wrong. The event will be expensive; not just in terms of money to organise location, logistics and equipment, but also in the time that attendees are giving up. Make sure the speaker fits the subject and purpose of the event.
Brief your speaker well: Once you know what the topic of your event will be, including the takeaways or outcomes that you want your audience to gain, you need to brief the speaker. A zoom/skype call, telephone call or video conference might take 30 minutes of your life, but it's time well spent. Explain to the speaker:
Who the attendees are
How many of them will be attending
How long you've set aside for the presentation
Whether or not there is time for FAQs
What you want the audience to take away with them; (awareness, insight, knowledge, skills, stories, usable hints and tips etc. etc.)
Once you've explained what you're looking for, get them to tell you what they might talk about, in order to deliver all (or most) of that.
Be advised by the speaker about what works: A good speaker knows their subject and they continue to research it, and its outcomes, with a passion. If they don't, they soon become irrelevant. So ask them to tell you the elements of their presentation that might land the best. What have other event organisers asked for? What has worked particularly well with other audiences? Get the speaker to give you their views.
Request an outline: If you want to be sure the speaker has understood what you've asked for, request a brief, written outline of what the speaker would talk about. This will not only reassure you that you've both understood each other, but it will also show due diligence to the person's who's paying the bills!
Maximise their time with you: Many organisations book a speaker for a keynote or a lunch n' learn session. However, they could keep them for longer and get more out of the speaker. Enlightened organisations have booked a speaker for a day, and then used them for interviews (to gain additional, positive media coverage), a panel discussion, a workshop at the client organisation, or even an after-dinner speech. For a little more money, you can get a lot more bang for your buck!
That's the top five items for your WHAT TO DO LIST. Now, here are some pitfalls to avoid when booking a speaker: (YOUR DON'T DO LIST)
Mistakes to Avoid When Booking a Speaker
Don't ask for the kitchen sink: Speaking is not an all-you-can-eat buffet. So don't ask a professional speaker to put too much information into the presentation. Remember that audiences have to process what they are seeing and hearing, What looks good on paper can overwhelm in real life, especially if it's brimming with too many concepts, ideas, and hacks.
Don't tell the speaker what you want them to say: You are booking them for their research, their experience, their knowledge and their skills. And you are also booking them for their unique voice and opinion. As long as their information is accurate, legal, knowledgeable and – if at all possible – entertaining – then let them do what they do best. If you were booking the Rolling Stones or Adele, you wouldn't tell them what or how to sing….
Don't just let the speaker keep on talking: If you don't stop them, they'll just keep going! Be clear about how much information you want, and how long you want them to speak for. A clear focus on timings and logistics makes them deliver a better keynote or event.
Don't ignore the logistics: Speakers need to know where they are staying the night before, how they will get to the venue and who might be looking after them while they travel from A to B or wait to go on stage. It's not just about the fee for the speaker (although that is much appreciated, thank you!) It's about making sure the speaker has enough time to travel, to rest, to eat – and to deliver the very best performance they can for your delegates. If it's stressful, tough and unrewarding, it can impact the fine-tuning of the very keynote or presentation that was supposed to be your Wow factor.
Don't over promise and under deliver: Some organisations promise a speaker the moon (which they don't really need). What they do need is travel, accommodation, health and safety and a reasonable fee. But if you promise an audience of thousands, and only 200 people turn up, you'll get a presentation that's probably too big for the room. If you tell the speaker they'll get loads of work from your event, and use that to get a lower fee, you'll find they've developed their presentation specifically to pitch to the room. It's far better to be honest about how many people will turn up and to offer a good fee. Then you can set the parameters that you prefer; such as asking the speaker NOT to sell to the room, or making sure their presenting style and interactions with the audience match the number of people who have attended.
To sum up, make sure you do your homework to get the best speaker.
Look for a speaker who says something like this:
"I will research the audience. I will know exactly what the topic is. I will always deliver. It will be thought-provoking, entertaining, and also have practical takeaways. Anyone who books me knows that I'm going to look after the audience, deliver the topic and make sure that at the end of it, everybody's got some action plans, and some ideas to take away with them"
Who said that? I did. And I meant every word!