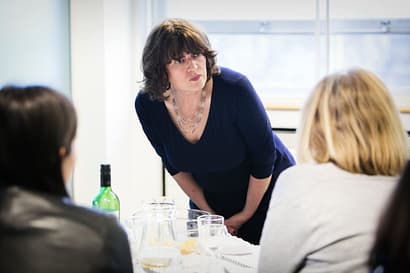 Hello and welcome to the 11th of my collection of 5 weekly posts.
Each week I write 5 posts – 0ne a day, Monday to Friday – which appear on LinkedIn.
Each week they are different: some are personal and some are business and some are somewhere between the two.
But despite the differences, they're all authentic, because I write as I speak: from the heart.
I hope you enjoy them.

[divider style='full']
MONDAY
Today, I'm off to meet a dear friend, D, for lunch. I've only known him for just over a year. But he's leapfrogged his way to my heart for three reasons. He's honest to a fault, and will always tell me the truth, about my work, my speaking and even my hair! He's kind and generous, in his professional & personal lives; offering to coach and mentor other people as they aspire to climb the career ladder, and also volunteering in his spare time. And he's funny; laugh-out loud funny!
A true pal is someone you feel comfortable with; they're someone who never lets you down and they're someone you want to spend time with, no matter what.
Years ago, I met a young girl who told me that her definition of being in love was that she could spend 4 hours in a telephone box with someone she loves, and not feel uncomfortable – just happy. I'd do the same with D. Of course he'd tell me to move over and give him some room! But then he'd be witty and wacky, and the time would fly by.
Who's your dear pal? And how honest are they with you? Go find them today, and bask in their affection. You'll probably share some love and laughter and there's nothing wrong with that! Go play!
TUESDAY
Myth Bust #1 – Still Living With Parents Makes You Soft!
In both the US & the UK, #Millennials & #GenZ stay at home for longer than any generation for the past 100 years, even going back home after having left for uni or an apprenticeship.
They're not lazy or soft; exorbitant rents, unaffordable housing & stagnant wages are keeping them at home. And they get huge benefits with this arrangement.
If you stay with your parents, you'll live more cheaply and can save for high rents or a mortgage. Also, intergenerational living can offer parents and adult kids much-needed, mutual emotional and physical support and friendship.
Research from the University of Waterloo, Canada found that #Millennials & #GenZ returners to the nest can have "positive & mutually supportive relationships with their parents" and gain higher emotional intelligence and more resilience than many who jump ship at 18.
If your kids want to live longer at home, that's ok. They'll get even more value from you as young adults in a loving home. Don't change the locks just yet.
#parenting #mentalhealth #personaldevelopment #futureofwork #keynotespeaker #generationaldifferences #generationaldiversity
WEDNESDAY
Comedy night at the Professional Speaking Association Conference in Coventry last Friday night, presented by the incomparable Alan Stevens.
Plucky individuals do 5 minutes of stand-up each; they're all really funny. Kudos to you all.
The funniest? Those who had a few more years on their belt; from Joanne Lockwood, with her last line about being like a marathon-turned-snickers; slightly smaller, still sweet & still contains nuts. From Shelle Rose Charvet, whose version of dragonflies grabbing their loved one by the neck and sicking up their "good stuff" had us hooting & cringing. From Peter Edge, whose Liam Neeson impression of: "I will find you and I will kill you" delivered to an 8-year old boy who was pestering one of his kids had us falling about yet embarrassed by our own, over-the-top behaviours when we only want to protect our kids.
Genius! Innovative! Hilarious!
Let's remember that our talents can make a difference in the worlds we inhabit and the people we work with. And let's also remember to laugh at ourselves and each other. After all, it's the absurd, the surreal and the ridiculous actions and cock-ups of our lives, that make us human.
THURSDAY
"Those who improve with age embrace the power of personal growth and personal achievement and begin to replace youth with wisdom, innocence with understanding, and lack of purpose with self-actualization".
(A quote from Dr Robert Bo Bennett, PhD, author, philanthropist, martial artist, speaker, amateur comedian, husband and father devoted to improving the lives of others.)
I'm not past my sell-by date, I'm maturing like a fine wine. But there are times when I'm wedged into the over-50s group, seen as 'the nearly dead group'!
When people like me are at the top of our game, synthesising our skills, knowledge & experience, others say we've hit our contract dead-end where our sector/industry says we should retire.
I'm all for new blood, innovation and a rolling-forward future of innovation and young newbies. But let's also keep room in our organisations for those with a few wrinkles, bad backs and greying hair; they have a key role to play as trainers, consultants, mentors, coaches and – most importantly – strategists.
FRIDAY
It's Friday; I'm exhausted, batteries low, energy spent.
I'm going home to the countryside where I live, to sit & watch scudding clouds, tall trees waving in the wind, the leaves turning to red, yellow and brown.
It's an autumn weekend where the outdoors is beautiful. It could be dry or wet (well that's the UK for you), and we light our log fires, and eat buttered scones with huge mugs of tea.
A time to watch the world go by but not join in.
A chance to read that book, magazine or blog from end to end. A chance to binge-watch a favourite Netflix or Amazon series.
To get up late, go to bed early and really talk to family.
To lie on the sofa in the mid-afternoon with my head on my husband's lap, and listen to music – my most favourite, happy activity of all.
Can't wait! If I plan it right, I can do that at least 1 weekend in 4.
How do you relax & recharge?
How do you set the world to rights?
Where is your most happy place of all?
Go and find it this weekend. You know you want to.