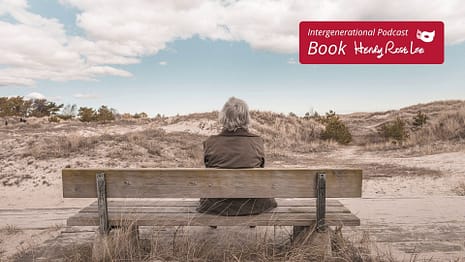 How will the government go about lifting Lockdown restrictions? It's looking like this could be fraught with challenges – especially for different generations.
Hi, I'm Henry Rose Lee and Welcome to my Podcast.
This is Podcast (PanPod) #11 – each one is designed to inform and entertain you during the lockdown.
You can listen to PanPod#10 HERE
Or simply relax and go straight to Episode #11 here…
Here's a transcript, in case you prefer reading:
Q J
We're all still in quarantine here in the UK, but there's a particular generation where they might be shut in for longer than anyone else. Who are they?
Henry Rose Lee
Silents and Baby Boomers, or in other words, anyone over 70 years old.
What worries me is that the government website recently posted that clinically vulnerable people are those who are aged 70 and older, regardless of medical conditions, and then they also mentioned a whole host of others such as heart patients cancer sufferers and so on. So they've lumped in clinically vulnerable there's been literally anybody who's older.
Q J
Who's been standing up for the older generations then, Henry?
Henry Rose Lee
Well, lots of people of course have been standing up for the older generations, but in particular, I want to mention two.
There's the wonderful Baroness Ros Altmann, she's often called the anti ageism czar and she's spoken out against this policy. She said nobody would dream of applying restrictions on the basis of skin colour, even though we're being told that the coronavirus has killed more black and Asian people than white people. So African Indian African Caribbean. They amount to about 15% of the UK population, but of those killed by COVID-19 in the UK 35% have been of a darker skin colour, but no one's going to tell them to stay at home and nor should they, that would be unethical that would be illegal. And that's against our laws.
And then of course there's Michael pale in that wonderful wonderful Michael Palin. He's the writer. He's a traveller and he's the Monty Python guru, he's my favourite who himself is over 70 and he said when he was recently interviewed on the Andrew Marr show that it would be very wrong, of course to exclude people or over 70 when locked down restrictions are eventually eased. He says something like this trend dreamer, said over 70 is a very active they're very thoughtful, with lots of ideas and they can contribute to our recovery, and I totally agree.
Q J
So what do you think the answer is?
Henry Rose Lee
Well I know there's no easy answer but I don't want to see a blanket policy, and the government is very quickly gone on Twitter and said that's not what we meant about over 17. I think the challenge is blanket policies, only work if everybody is in lockdown. And as soon as we start to ease restrictions, I think we've got to do three things.
One is we've got to do better testing, so that we can catch people at source and then find out who actually has the virus.
The second one is we can do staggering so we can stagger travel we can struggle what we can stagger travel, we can stand up. Yeah, we can stagger workouts we can stagger travel. And so we could look at it in that way.
And finally, we've got to continue with social distancing, so I see no reason why anybody of any age who's well and fit and healthy. After restrictions raised I can't see any reason why they wouldn't be allowed out, as long as they're careful and follow all of the guidelines. So if I ruled the world that's exactly what would happen.
Transcribed by https://otter.ai
You can subscribe to my podcast here:
If you're a millennial or genZ, and you'd like to be a guest on my podcast, then get in touch here. OR join my Insights list here.