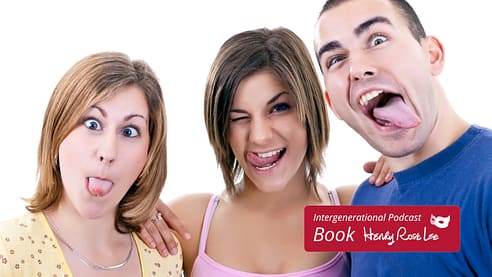 Hi, I'm Henry Rose Lee and Welcome to my Podcast.
This is Podcast (PanPod) #6 – all about working from home during the lockdown.
You can listen to PanPod#5 HERE
Or simply relax and enjoy episode #6 here…
Here's a transcript, in case you prefer reading:
Q J
Red faces, belly laughs, and awkward moments – is that the title, is that want you want to go on LinkedIn?
Henry Rose Lee
It says, it says 'Title'. That's really funny so the title is that the title? No! (laughter)
Q J
Shut up! All right. Calm down now. Calm down. Let's get to the recording. Okay. Shal we start?
Since the lockdown we've seen and heard such terrible things and I thought it was about time we had a few laughs. I mean when you think about it, all of us are plonkers at one time or another. So it's probably about time that we started admitting that we're five star, gold plated idiots every now and again. What about you, Henry?
Henry Rose Lee
Absolutely. I'm famous amongst family and friends for the daft things that I do; and I have two stories to tell.
Q J
Okay. Go on then what's the first one?
Henry Rose Lee
Well the first one takes place last summer, I was running for the train at St Pancras station. I was wearing one of those beautiful blue and white floaty summer dresses really proud of it was quite new. And I was also wearing a rucksack stuck on my back. And I saw that the train was about to leave and I was running a bit late so I started tanking up the concourse running as fast as I possibly could, wearing this very very heavy rucksack, and I noticed people staring at me and I thought God I'm really good at running even at my age, I can get this train. So I hare along the platform, shove my ticket in the barrier get through and jump on the train and people are clapping, and I'm like, still got it. I've still got it I'm really really fit and healthy. And the guy leaned over to me and he said all the way down the platform as you were running your dress was riding up, and it was stuck into your rucksack and you were showing your knickers and they're kind of big and blue aren't they. So that was my claim to fame that I ran up St Pancras station and onto a platform, showing my big blue pants and it wasn't even nice knickers, it was just big blue pants.
Q J
Okay, well yeah a little bit embarrassing, very embarrassing, but that's not I suspect that's not the first time that someone's shown their knickers in public, if you got a story where nobody else has done what you've done.
Henry Rose Lee
I have, I've got a story that's completely unique to me so I want you to picture. Christmas. Christmas couple of years ago, let's say that I had had a very good Christmas Day, and I come down the next morning. Boxing Day and I decided that I will make a cup of tea. And most of us have got our favourite mugs so I get a couple of favourite mugs, out of the washing bowl, because they haven't been washed up from the day before and I think right I'll wash them up. So I pick up my favourite mug, and I pick up a scourer, and I start cleaning the bug just swilling it out with water, and suddenly the scourer squawks and squeaks, makes a noise and squeaks yeah and it comes alive, and it spreads its wings. And it turns out that I have been washing up with a bat. With a pipistrelle bat. So there's this tiny little bat which is obviously flown indoors. And because I'm so short short sighted without my glasses on. I just picked up the bat thought it was a scourer and started cleaning up a mug
Q J
But it's completely different.
Henry Rose Lee
No. Well, I guess that when you're very tired and a little bit hung over you don't notice
Q J
the effect of the alcohol,
Henry Rose Lee
it might well have been and also it's very little square, little thing and before it opened its wings, it was completely like a scourer. Yeah, okay. I ended up washing up with a bat. Did it get a clean cup come up clean,
Henry Rose Lee
It was very wet and rather unhappy.
Q J
So I mean the mug, was the mug clean? Did the bat do a good job?
Henry Rose Lee
Yeah, very good it's very very clean.
Q J
Right. So, that brings us to where we got three stories for today. So, it's gonna be something out to you and I. Last week, so go and share that one.
Henry Rose Lee
Okay so last week, we went for our usual evening constitutional, we go for two mile walk every day because we're very lucky that we live deep in the countryside in rural Kent, and we walk around our property and then down the lane to the bottom of the hill. And then we turn around to come back and that's a couple of miles. So we got down the bottom of the hill and we saw these beautiful little baby lambs that just been born and it was rather beautiful and sunny and warm. And we sort of cuddled up to each other, watching the lands. And you grabbed me and gave me a kiss and it was rather wonderful until we heard giggles behind us, and out of nowhere was a young mom and her toddler who'd come for a walk I mean Where the hell did they come from, and they're literally laughing their heads off at us. We thought we were being really romantic they just thought it was funny. So then we try and pretend we're not kissing and start trying to do a two metres distance and walk up the hill were these his child and his mother and just falling about. So that was a bit embarrassing too.
Q J
So they knew that we hadn't spotted them and they'd caught us out the corner of their eye and,
Henry Rose Lee
yeah, they caught us kissing.
Q J
Well that's certainly unique for these times I guess
Henry Rose Lee
I guess it is and I guess the greatest gift that you can give yourself during the virus locked down is laughter. It's sweeter still and even more life affirming if you can love yourself. So I don't know look in the mirror and notice how good it feels when you smile. Laughter lines around the eyes are there for a reason to show that you know how to have a good time. So come on then bring out those terribly embarrassing stories and share them with us all, because right now we could all do with a love. Thanks a lot. Thank you.
Transcribed by https://otter.ai
You can subscribe to my podcast here:
If you're a millennial or genZ, and you'd like to be a guest on my podcast, then get in touch here. OR join my Insights list here.