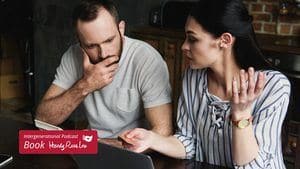 With 52% of British workers trying to do their normal job, but doing it while working from home, it can be tough to be just as effective and efficient as you were when you had a place to go to everyday.
Hi, I'm Henry Rose Lee and Welcome to my Podcast.
This is Podcast (PanPod) #7 – all about working from home and achieving a work/life balance during the lockdown.
You can listen to PanPod#6 HERE
Or simply relax and enjoy episode #7 here…
Here's a transcript, in case you prefer reading:
With 52% of British workers trying to do their normal job, but doing it while working from home, it can be tough to be just as effective and efficient as you were when you had a place to go to everyday.
Lockdown means that we're not just missing our friends and family. We're missing our work colleagues too. And we're removed from some of the rituals, habits and motivations that were so ingrained when we had to travel into work every day.
My coaching clients are all working from home, and so undertaking virtual coaching with zoom, skype or another video conferencing tool is actually very easy for us all.
A couple of clicks and we're live – chatting away as naturally as if we were in the same room.
However, it's not all plain sailing. Across my coachees, there are 3 questions I keep on hearing:
1. How can I be as efficient and responsive to my customers or stakeholders, as I was in the office?
2. How can I keep myself motivated and engaged, when I'm stuck in a small house day in day out?
3. How can I balance work and childcare?
So here are some hacks….
1 Efficiency
It can feel tough to work from home and feel you are as efficient and responsive to customers and stakeholders as normal. So recognize that virtually everyone outside of health workers and support services is working from home, and they are struggling just as much as you are. So here's what to do.
First of all, let your customers and clients know what your home life is like. Tell them if you have kids to look after so it's less of a surprise when they burst in with an issue or an upset.
Secondly, get dressed for work. It doesn't have to be a suit or your best work outfit, but it should not be your usually pyjamas or sweat pants. If you dress for work, your body and brain will get ready to work. And when you're working, add in 30% more time for getting things done so that you do achieve your work flow, even if things are slower, and less slick and professional than usual.
Finally, have a TO DO list every day and notice what's been done. It will help you to see that every day you're still making progress.
2 Motivation
To keep yourself engaged and motivated when working from home make sure you take breaks regularly. You would do that anyway in an office, store or factory, and you might not even realise that you chatted to a pal after you had gone to the loo, or that you had a good hour for lunch, or that you walked round the block after the long meeting.
So do take regular, proper breaks.
Don't work from 7 am in the morning to 7 pm at night. Now and again is fine, if you have a tough deadline.
The rest of the time, make sure you eat lunch and get some rest in the middle of the day.
It's also important to dedicate a place at home where you work. Of course you can work anywhere in the house. But if you do, it makes the house feel more like a workspace than a place to chill or have fun.
Set up your workstation and use that only to work. And make sure you take a 5-minute break every hour or so. That's all your brain needs to refresh and get you back on track.
And if you have a day when you're not feeling it and nothing's working, stop! Go outside, take some exercise, and have some fun. If you do that, you'll be able to get back to work tomorrow, with renewed energy and enthusiasm.
3 Work life balance
This is tough at the best of times. But if there are kids involved, getting organised during lockdown is more like a military campaign!
If you have a partner, share everything 50: 50.
Most of my coachees who have children, work half-day shifts.
For example on a Monday, one partner will get the kids up and stay with them until lunch time, when the other partner takes over. It gives each partner time to get some work done, and then time to spend a few quality hours with the children. If you're a single parent it's much harder.
What some of my coachees have done is to ask a parent or family member who has self isolated and is well, to become part of their support network and to come over and spend time with them every day. If they can drive or walk over and not touch or meet anyone else, then it should be ok for everyone. Some have even had this family member move in temporarily to support them.
And last of all, it's important to avoid a sense of going stir crazy or getting cabin fever.
Make sure that every day, you are face-timing or video conferencing someone. Build in a deadline every week and a reason to get out of bed every day.
I stagger all my business development, my coaching and my consulting calls across a week so that something is happening with a prospect or a client every day.
That makes me see every day as worthwhile, because it's giving me something important to achieve.
Whatever happens, recognize that this lockdown is hardly business as usual. And pat yourself on the back for everything you're doing. You are so much better than you think! We all are!
You can subscribe to my podcast here:
If you're a millennial or genZ, and you'd like to be a guest on my podcast, then get in touch here. OR join my Insights list here.