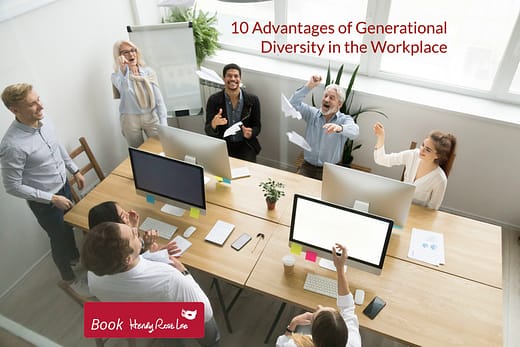 Generational Diversity is wonderful. There. Said it! Nailed my colours to the mast! Here are ten awesome benefits for having a whole range of different generations in your workplace. Read this, and then check out your workforce. Is everyone an "old fogie"? Or are they full of "young Turks and Turkesses?" Mix and match, I say. That's what delivers inclusion, variety and competitive advantage. That's a win, win, win!!!
1.         Innovation:
Younger generations tend to into innovation, diversity, novelty and variety. That's because so much of the world is still new and undiscovered for them, and they also have the energy and enthusiasm of youth. That joy and impetus, helps organisations to come up with new ideas and to keep the lifeblood of the organisation topped up.
2.         The Three S's:
Older generations are more into strategy, structure, and stability. That's because they have a wealth of experience and have developed their talents and skills over time. As they've got older, they've learned some tough lessons, and also taken on responsibilities – such as long-term relationships, having children, running businesses or leading teams.  These three S's help organisations to have the foundations in place for business performance and growth.
3.         Technology:
Younger generations – particularly Millennials (20 to 36), Generation Z (9 to 19) and Generation Alpha (those under 9), have nearly all grown up with technology and have a facility to deal with all types, quickly picking up hints and tips and short-cuts which get the best out of the vast array of technological advances that help companies to keep abreast of, or even ahead of the competition in terms of processes, systems and tools for productivity, innovation and efficiencies.
4.         Mentoring:
Many of us understand the concept of mentoring. But it's not just older, more experienced workers who mentor younger ones. That's great of course; being able to pass on ideas, how-to's and what-not-to's to less experienced colleagues are wonderful. Yet younger workers have a role to play. Reverse mentoring is where our youngest colleagues teach us oldies about things we find hard to understand, such as intuitive technology. My young EA keeps telling me my iPhone is intuitive so I guess that's why I can't understand how to work the bloody thing fully! Mentoring and reverse mentoring are good for business and get everyone up to speed.
5.         Succession planning:
Every organisation needs new ideas. But it also needs new people. If the organisation is to continue to grow and be successful, it needs a bench of up-and-coming talent who will be the leaders or key players of its future. Organisations that have no new talent will soon become stale and uncompetitive. Having a range of generations provides a melting pot of potential to the workplace.
6.         Unconscious Bias:
Let's get real. Unconscious bias is alive and well and living inside each one of us. Bias helps the brain to work quickly and rapidly sort out information, make decisions and take action. But that very bias can make us judge people unfairly and blindly. Having a diverse workforce means that debates are less black and white, but more nuanced – as different experiences, views, and beliefs are shared. Getting ideas from people of different ages who are at different points in their lifecycle, might just reduce some bias across the organisation. It might also reduce some of the "isms" that are still faced at times (such as racism, ageism, etc.). It's certainly worth a try.
7.         Flexibility & Agility:
Have a mix of generations at work means a workforce of flexible employees. Statistically, older workers still like to work in an office environment, doing 9 to 5 shifts, and having their weekends off. Younger workers (or those under 45), are often just as happy working remotely or from home – and seem relatively comfortable to work at evenings and weekends.  I believe having a bricks-and-mortar building to attend, with the opportunity for regular, remote, out-of-office working, plus flexible hours produces an employee base that is much more agile and responsive in this 24/7, always-on, world.
8.         Customers:
In the same way that our customers are often a range of diverse ages our workforce should reflect our customer base. It's no surprise that some enlightened organisations are creating dream-teams of business development teams who are a range of different ages. They recognise that if you have an older, more experienced sales person paired with a younger salesperson, you'll get the best of both worlds. And that team will be able to connect with the customers of the same age.
9.         Learning:
It's no secret. Our youngest generations see learning as currency. They want to learn what they want to learn of course – and not necessarily what us oldies think they should learn. Having a diverse range of ages at work means that everyone learns from everyone else. Older generations can teach younger ones about critical thinking and problem-solving – helping them to think more tactically and strategically – and both are vital for business success. Younger generations can teach younger ones how to be more tolerant of different races, colours, creeds, genders and values. Think about transgender issues. Even two years ago, very few organisations even talked about having a trans-gender employee. And now, thanks to our younger, more adaptable and flexible workers, we are much more comfortable to have the conversations, and think about LGBTIQ + issues.
10.       Fun:
Of course, we all know how to have fun, but with age, comes responsibility, and the scars of things-that-went-wrong experiences. Younger workers can still remember the fun of school, college, university, and first jobs. And fun is vital for all human beings. We are wired to laugh and to enjoy ourselves, and yet modern workplaces can often become so efficient and process-driven that they lose the very concept of fun. A diverse workforce can be entertaining and sometimes, just plain funny! Why does that older worker do this? (Such as insisting on using a paper-based map to find their way in an unknown city, rather than their smartphone GPS tracker?) Why does that younger worker worry about that? (Such as using emojis and short-text BTW ?)
Let's embrace fun in the workplace. We could all do with a laugh…
Want more insights? Then CLICK HERE