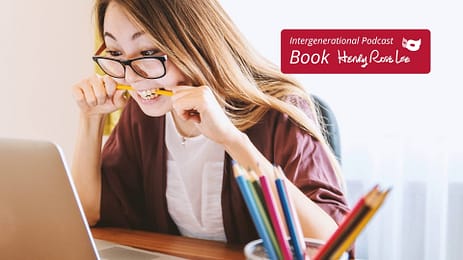 Working alone is tough at the best of times. But when you're used to a workplace with lots of people and interaction, things get particularly bad.
Hi, I'm Henry Rose Lee and Welcome to my Podcast.
This is Podcast (PanPod) #12 – each one is designed to support, inform or entertain you during the Covid-19 lockdown.
You can listen to PanPod#11 HERE
Or simply relax and go straight to Episode #12 here…
And HERE FOLLOWS a full transcript – in case you prefer reading:
QJ
Today Henry, we're talking about the youngest talent in organisations – Millennials and Gen Z, and how they're coping under lockdown. You've been doing a lot of virtual coaching so how productive are these young workers?
Henry Rose Lee
For some of them, more than you'd think, they're not being very productive and they're not coping well with lockdown. Statistically, youngest workers are the least comfortable and the most stressed during lockdown. They miss their work colleagues. They miss the commute into work and they miss the structure of the working day which encourages them to focus and helps them work productively and effectively.
QJ
But surely our youngest workers have all the tech in place and are used to working remotely. It's literally anytime, anyplace and anywhere isn't it?
Henry Rose Lee
Of course, some are doing really well – especially those Millennials and Gen Z who were already working remotely and virtually. They're used to it. That's normal working life for them. They're used to Zoom calls and virtual meetings. But for many, this is their first time working alone, in their bedrooms or living rooms, surrounded by their family or other people, and it's not at all easy for them. And in my coaching sessions, there are two clear responses to the lockdown. Some are working too hard, because they are not in the office. They're not taking the usual coffee breaks or lunch breaks. They're not strolling past desks after a long meeting and chatting to people. So they end up working too hard. I had one young coachee who worked for 12 hours a day, for 7 days and then couldn't understand why she slept so badly and then got really depressed. He needed to take breaks and she wasn't taking them. We had to talk about her creating a daily and weekly schedule of work and breaks, and a clear focus for priorities and objectives, so that she achieved something every day. And at the end other of the scale, I had two other coachees who just hate lockdown and feel very isolated and lonely. Like the rest of us, they've never been in quarantine before, but they also miss the external reference and framework that a workplace gives you. Such as instant feedback if you have a question, or instant lightening of the mood when you can visit someone else's workspace and have a chat or a joke around. And one of these coachees found it very difficult to plan how to work at all and ended up binge-watching Netflix. We talked about what was missing and organised for her manager to call her every other day between 2 and 3 pm to talk about what she'd achieved and help her to plan for the next day's work. She now has a template to follow her that gives her the structure she needs to be effective.
QJ
So what can be done to support Millennials and Gen Z who are not able to go into the office, or connect with their colleagues?
Henry Rose Lee
Leaders need to recognise that their youngest workers lack the emotional intelligence which helps them to be resilient under pressure. Lockdown is unprecedented. It's negative and scary and it makes people feel uncertain. But for our youngers workers, they haven't yet build up a lot of mental muscles which help them to be patient, to focus on what's needed right now. They can end up catastrophizing – or as one coachee put it – awfulizing. And everything seems bad. But a good leader can encourage Millennials and gen Z to plan and prioritise, to set a TO DO list every day, and to focus on what they've achieved every night, so they feel they are progressing. Leaders can also make sure that these individuals are regularly feeding back their ideas and achievements, and that they get a chance to socialise. Some companies to a daily chat which is not even work related. Some do quizzes and games every week. I've even got one client who gets everyone to play charades together!
You can subscribe to my podcast here:
If you're a millennial or genZ, and you'd like to be a guest on my podcast, then get in touch here. OR join my Insights list here.